In the United States, precision agriculture is one of the largest industries by both operational scale and economic impact. The technology utilized is typically on the cutting edge, especially for automation and control. Things like sensors, programmable radios and generally more complex software applications have allowed that industry to evolve, domestically, to a point where land and other resources are used optimally. Internationally, although there have been 'smart' or 'precision' practices in certain sectors of agriculture, many countries are just now starting to adopt the technology to its fullest extent, including the ability to innovate via start-ups and new practices.
India & the Digital Agriculture Revolution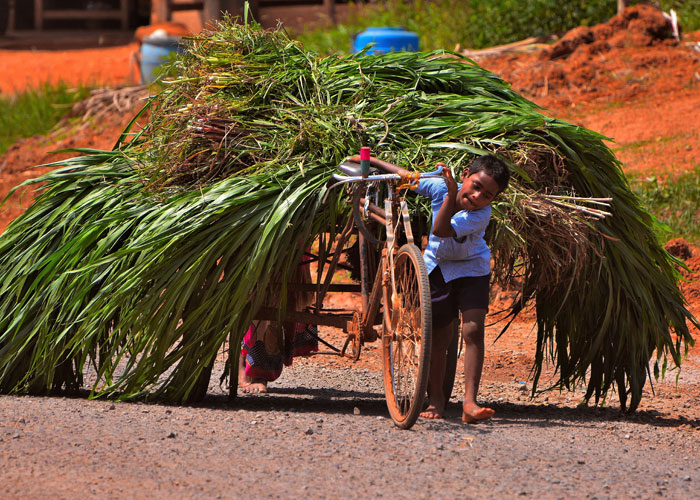 According to an article in India Times (image credit), the country is aiming to secure a 20 percent stake in the IoT market share in the next five years through its 'Digital India' initiative. While many might look at India and think of the sprawling and diverse urban environments that could offer some potential complications for IoT, it is rural areas seeing the most interesting developments. There has been a noticeable growth in tele-medicine operations, which can allow patients in remote areas to interact with doctors for consultation, eliminating the need to get to a city, or vice versa. Perhaps an even greater area of growth lies in the agricultural realm. According to the article, agriculture employs 50 percent of the country's population, so the potential for a digital revolution is high. Farmers are just starting to implement sensor technology, automation hardware, and even leading-edge tools like voluntary milking systems the allow cows to be milked on an automated machine according to biological needs.
Israel's Precision Ag Start-Up Community
In Israel, where IoT technology is starting to mature, the name of the game is data collection and analytics. Mobile applications, sensor data collection hardware, and advanced analytics software are three areas that Israel is seeing significant market growth, according to Israel21c:
Israel stands out in precision-ag subsectors of water management, data science, drones and sensors, says Stephane Itzigsohn, investment associate at OurCrowd. … "Multiple startups are aiming toward the same goal — providing good agricultural data — but approaching it from slightly different angles," Itzigsohn tells ISRAEL21c. "One might use satellite images or aerial photography; another might use autonomous tractors. Not all will get to that peak in the long journey of farming becoming more efficient."
For example, CropX, an investor-backed advanced adaptive irrigation software solution, can be placed throughout a farming area and synced with a smart phone, allowing the operators to receive real-time data updates on things like soil and weather conditions. CropX is based in both Tel Aviv and San Francisco, indicating that the technology may be poised for wide international adoption in the future.
Analytics Drive Italy's Drought Recovery
Italy is perhaps best known for a single agricultural export: wine. However, many would be surprised to find out that it is one of the top corn producers in the European Union, producing more than 7 million tons of corn in 2015, according to an RCR Wireless report. In 2016, the EU's total corn output dropped noticeably due to year-long droughts affecting production. In Italy, start-up companies collaborated with industrial ag operations develop and deploy widespread soil sensor and water automation technology to help streamline farming practices and create a more efficient system for resource use. The technology allowed farmers to get a comprehensive look at their operations and identify high and low yield areas in order to better utilize the available space.
Precision Agriculture and the Industrial IoT
The continued maturation of IIoT technology is enabling countries around the globe to better utilize resources like water, energy, and land area to create better agricultural operations. As populations continue to expand, and food production becomes even more important, being able to connect these technologies across the globe could become a key factor in optimizing crop output in critical areas. Imagine the above farm in Italy being able to send its data to data scientists in Germany or the Eastern Europe who could in turn analyze it and provide actionable feedback. Or an industrial farm in Israel managing its yields sending that information in real-time around the country. These possibilities are not far off, and as the networks, hardware and software continue to be adapted, the future of precision ag internationally, will become the present.